Discover Milan : Fashion Capital of the World
Without a doubt, Milan is the fashion capital of the world. If you're planning a trip to Italy in search of fashion and glamour, then the city of Milan is a must-see experience you won't want to miss. Stage of one of the most crucial fashion week of the globe, the city hosts the headquarters of many top-notch Italian luxury brands: Armani, Gucci, Valentino are just some luxury fashion labels you can find walking the streets of this unique city.
For the most part, Milan is a pedestrian-friendly city and the main shopping thoroughfares can be found in the centre of town.
Walking through the streets of this fashion capital is like being in the centre of a photo shoot for the Italian Vogue!
If you are planning your shopping tour in Milan, the first advice is to take into account that timing is important: large shops generally are open daily, while smaller shops can be closed Sundays and on Monday mornings. Here, our best fashion districts for shopping in Milan, the fashion capital of the world.
Galleria Vittorio Emanuele II
This glass-covered shopping arcade houses some of the most prestigious shops in Milan. The glass-roofed, arcaded gallery, open since 1867, is located between the Duomo and the Scala Theatre, and is one of the world's oldest shopping malls, featuring frescoes, decorated statues and coloured marble floors.

The Galleria Vittorio Emanuele II is the right place to purchase clothes by internationally famous fashion houses and the most exclusive perfumes. If you don't plan to make any purchases we recommend to visit the Galleria at night when the shops are closed.
The fashion quadrilateral
The quadrilateral is formed by Milan's most elegant shopping streets. This part of the city is packed with high-end boutiques and brands like Prada, Gucci, Moschino, Versace and Bulgari.
The most renowned high-end streets in Milan are Via Montenapoleone , Via della Spiga and Via Manzoni.
Via Monte Napoleone is home to some of the most exclusive shoemakers and designers from Italy and across the world.
Spend a few hours at Via Monte Napoleone if you love the more luxurious things in life: exquisite architectural facades and porticoes, fast cars and high fashion. Getting here is simple, as the street has its own Metro stop at Montenapoleone.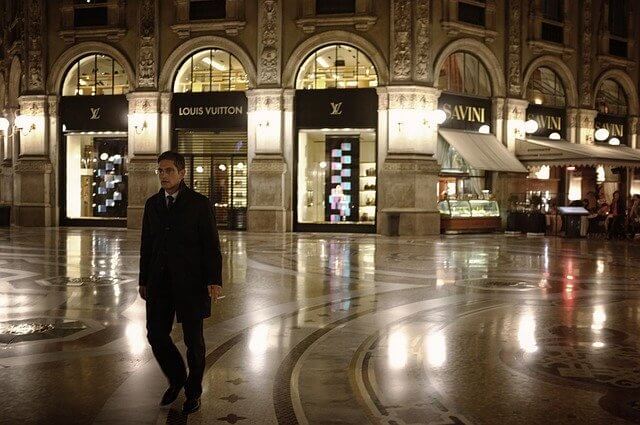 Via della Spiga is car-free, with a dreamy, curated atmosphere. Boutiques in and of themselves are artworks, set in historical buildings in silent courtyards. The items inside are highly stylized: Mannequins draped on leather couches, handbags hung on stone statues, shoes inside tiny boats.

Via Manzoni, dubbed one of the most elegant streets in the city since the 1800s, runs close to the prestigious La Scala theatre and has an old aristocratic feel, dotted with a number of storied cafes for shopping breaks.
Corso Buenos Aires
Corso Buenos Aires is reputed to be Europe's longest shopping street,and is comparable to London's Oxford Street or Paris's Avenue des Champs-Élysées. With over 350 international ready-to-wear brands, the 1km-long street offers one of the highest concentrations of clothing stores in Europe and is a great place to pick up some bargains. The bustling road features some of the city's more affordable shops including H&M, Swatch, Desigual, United Colors of Benetton and Boggi.
Our tip: Stop at Viel or Pattini to taste the best milkshake and the best cream cannoli in town.
La Rinascente
The Rinascente is a department store with luxury brands and expensive goods and it is situated in Piazza del Duomo. This flagship of the luxury Italian department store chain offers a selection of designer clothing, shoes, accessories, cosmetics, and top-shelf housewares—all under 20,000 square meters of swanky modern space. The advantage is that it opens every day of the week, and the top floor plays host to a number of enticing restaurants and terraces.
Our tip: Stop in for a meal or drink at the rooftop bar and restaurant, the Duomo is so close that you can almost reach out and touch it!
Milano Hotels – Where to Stay
Best luxury hotel: Chateau Monfort- Relais&Chateaux 5*
Best for historic charm
This 5-star boutique hotel is located in Milan's historic centre, an 8-minute walk from Piazza San Babila and the fashion area of Via Montenapoleone. Château Monfort is set in a historic building. The rooms are themed after different fairy tales and nursery rhymes. The mix of antique details and modern facilities makes for a unique, glamorous chic style.
Rooms from € 260/night
Best mid-range hotel: The Unique
Best for a boutique stay
The Unique is situated in Milan's Brera district, 500 m from Sforzesco Castle and within a 10-minute walk of La Scala Theatre, Galleria Vittorio Emanuele and Milan Cathedral. It's a small apart hotel with just 4 suite which are all unique. The suites are all new and decorated with refined taste!
Rooms from € 220/night
Best budget hotel: Boutique Centrale Sant'Andrea
Best for a stylish stay
Beautiful location in the fashion district and very close to Via Montenapoleone and Duomo. New and very chic room and bathroom in the furniture. Ideally situated in the centre of Milan, Boutique Centrale Sant'Andrea features air-conditioned rooms with free WiFi, private parking and room service.
Rooms from € 110/night