Shopping in Bologna, Italy
Bologna is the capital city of Emilia Romagna, Northern Italy. Italian fashion and food should be the key themes for Bologna's visitors. Bologna has a wealth of exclusive boutiques, top quality antiques shops and stores selling international fashion and design brands. These are mainly located in pleasant pedestrian areas and the courtyards and galleries in the historic centre.
Many shops are in the "Quadrilatero", the heart of the city, once home to its guilds. Another major luxury shopping in Bologna thoroughfare is the Galleria Cavour. Here you can find Armani and other main Italian brands, such as Gucci, La Perla underwear and La Maison Bulgari jewellery.
Located strategically in the heart of Bologna, the elegant Galleria's murals and nineteenth century marble floor make it a perfect setting for its prestigious boutiques and luxury brands.
The intriguing medieval and Renaissance streets of the Corte Isolani area, near the two Towers and Piazza Maggiore, is another great place to browse, with craft boutiques, speciality delicatessens, cafés and wine bars.
Bologna is also nicknamed "la dotta, la grassa, e la rossa" (the learned, the fat, and the red) and it's a perfect destination for food-loving travellers.
As the centre of the Emilia-Romagna food culture, Bologna is famous for its access to great products like Prosciutto di Parma, Parmigiano-Reggiano and Mortadella.
Most importantly, Bologna is the place to eat hand-rolled, fresh pasta served along with complex, meat-laden ragu that many around the world define as Bolognese sauce.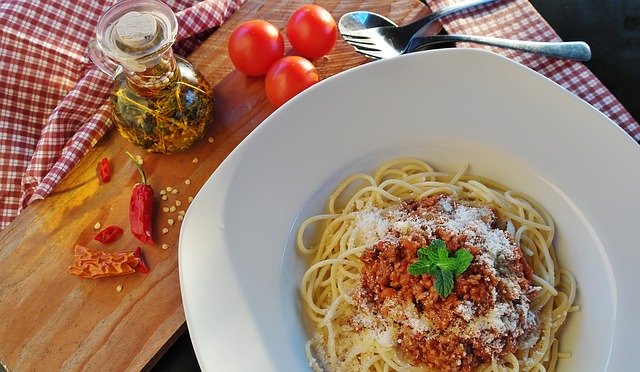 If you might prefer the town market to luxury shopping, so don't miss a stroll around the Mezzo Market stalls near Piazza Maggiore, the oldest market in the city.
It is located on three floors and has the very best in traditional Bolognese products to take home or eat on the spot: meat, fish, salami, cheese, fruit, bread, pizza, pasta, ice cream and cakes, wine and beer. Street food at its best.
Bologna Hotels – Where to Stay
Best luxury hotel: Grand Hotel Majestic già Baglioni 5*
Best for historic charm
The Majestic gia' Baglioni is located in the heart of Bologna, just 250 m from Piazza Maggiore and the famous Two Towers and next to Palazzo Fava. Located within an 18th-century palace, Grand Hotel Majestic gia' Baglioni offers elegant surroundings and antique furnishings in the centre of Bologna.
Rooms from €390/night
Best mid-range hotel: Nh Bologna de la Gare 4*
Excellent location
Just 300 m from Bologna Central Train Station, this NH hotel located in Bologna's shopping district and features free Wi-Fi. It offers an international buffet breakfast and large rooms with a minibar and satellite TV. Rooms at the NH Bologna De La Gare come with classic or modern décor, and a private bathroom with a hairdryer and toiletries.
Rooms from €130/night
Best budget hotel: Suite Hotel Elite 4*
Fabulous breakfast
Bologna's Suite Elite is a design 4-star hotel located a 15-minute walk from Piazza Maggiore. Rooms and apartments come with free WiFi. A generous, continental buffet is available daily in the Sala Fellini breakfast room, with hot drinks made at the bar. During summer guests can enjoy their breakfast on the Dolce Vita terrace.
Rooms from €69/night