Italy Honeymoon: Venice, the Romantic City
Venice is generally supposed to be just about the most romantic city on earth. And it's true, it really is. Honeymooning in Venice can look like a scene straight out of a story book: with its piazzas, canals, old palaces and elegant atmosphere, it is possibly the best place to spend a honeymoon journey.
Every year, many couples choose to spend their honeymoon in Venice, and it's not by chance considering that it truly is the 'city of love'!
You can spend 2 days in Venice and pair it with nearby cities like Florence, Rome or Cinque Terre for your honeymoon or spend a whole week to enjoy the sites while still taking time to relax.
A romantic gondola ride, during the Venice honeymoon tour, is something one will remember for a lifetime.
Venice has it all, but if you're not completely convinced yet, here are the top 10 romantic things to do in Venice with your better half during your honeymoon in Venice!
The most romantic arrival
If you're flying in to Marco Polo airport, then naturally, you'll be taking a boat transfer to the city. The water taxis of Venice are really the water limousines of the city. The classic wooden motor boats radiate luxury with their leather upholstered seating, private drivers and open-air seating to the rear allowing a unique view of the city as you arrive.
Oozing Bond-Esque glamour, these zippy private taxis are undoubtedly the most chic way to arrive, if you've ever seen photos of Hollywood film stars arriving at Venice's famous film festival, this is the way they travel and you can too!
Arriving by Venice water taxi will certainly give you an absolutely unforgettable experience, watching as the city slowly appears on the horizon, moments like this last a lifetime!
Venice, the Romantic City – Gondola Ride:
If you're spending your honeymoon in Venice, this is something we really recommend to do. This is a memory that will last forever, and that you can't have anywhere else.

Cruising through the canals, enjoying the colourful building blocks, and kissing under the bridges are few best things to do in Venice that a couple should not miss at all. Gondolas are fascinating, their shape is so sinuous on the water, that you'll feel like being rocked to sleep, but your eyes won't be able to close because of what you'll be admiring all around – an incredible city, built on water.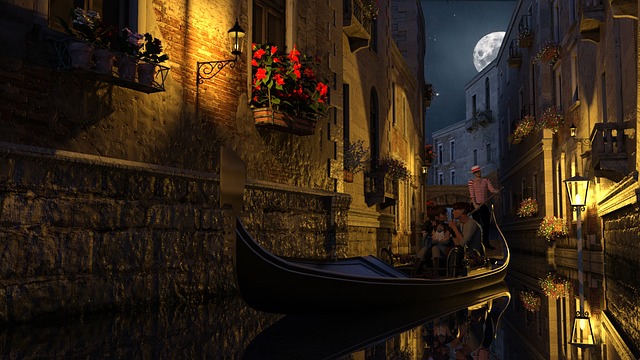 If you're looking for something a little more intimate, you can glide in seclusion through the canals that make up the streets of the city, and for a few euros more, you can hire a musician to serenade you.
Cost Per Gondola Ride: € 80.00 for 40 minutes
Cost For Extra 20 Minutes: € 40.00
Cost After 7 pm: Base – € 100.00; Additional – € 50.00
Did you know? Gondolas have always been known as "the boats of love" for a reason, in fact, it's not a mystery that Venetians used them to get away for romantic encounters, so you can follow their example!
Lovers used to meet inside a gondola (gondolas used to be partially covered by a cabin at the time), and who knows how many love stories started (and still do start!) on a gondola.
Venice, the Romantic City

– Admire Venice Bridges
The Bridge of Sighs
It is said that if you kiss someone under the Bridge of Sighs,the two of you will be together forever. Made of beautiful white limestone and containing windows with stone bars, the bridge passes over the Rio di Palazzo.
When in Venice, follow the venetian recipe for eternal love:
According to the tradition, if a couple kisses under the Bridge of Sighs, while drifting below on a gondola at sunset, they will enjoy eternal love. Thus, the "sighs" are said to come from lovers who are overwhelmed by the romance of the whole scene.
Rialto bridge
Thrumming with life, the Rialto Bridge is as important to Venetians today as it was 400 years ago. It's an essential part of life in the city as it connects the districts of San Marco and San Paolo, and is perhaps the city's most beautiful and romantic bridge : a palatial stone span that thrives with energy from the many stalls and shops dotting its length.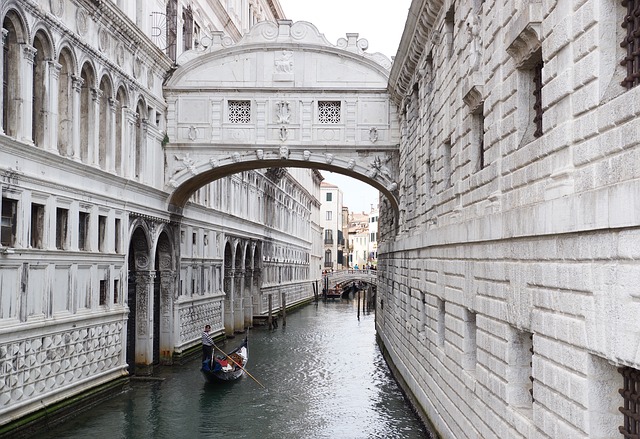 This charming site is worth seeing at any time of day! In the morning the water twinkles in the sunlight, the canal is busy with the commotion of people making their way onto the Venetian Lagoon grounds.
Late in the afternoon when the light is less harsh, the gorgeous vibrancy of the colours of the buildings brings a different kind of magic to the light. At night time, gosh, the romance of the lights shining on to the quiet of the canal is simply indescribable!
Looking for the best hotel to stay?Check out our amazing selection, from budget to luxury, we have the right hotel to suit your travel needs. Click Here
Follow in the Footsteps of Legendary Lover Giacomo Casanova in Venice
Born in 1725 to a humble household, Giacomo Casanova's swashbuckling amorous life played out among the romantic cafes and calle of Venice.
Casanova was known to stop at Cafè Florian in Piazza San Marco for a coffee. Cafè Florian remains legendary today as one of the oldest cafes in Venice, and a famous stop along the Grand Tour of the 18th century. Consider that a coffee here will be expensive, but if you are following in the footsteps of Casanova, prepare to be sumptuous!
Around the corner you will find the Cantina do Spade, near Rialto, where Casanova is said to have seduced a Venice state official's wife over dinner. The cantina is a historic landmark in Venice as it has been the site of a tavern since 1448. Today it is a nice spot for cicchetti and a drink, or dinner in a historic place where you can toast to the pleasure-seeking Casanova.
Venice, the Romantic City –Stroll along the canals and find hidden treasures!
One of the beauties of Venice, the city of romance, is the mere fact that simply wandering around is romantic!
The absence of cars makes Venice a perfect place to wander hand-in-hand with your partner. To avoid the hordes of tourists, head for the small canals and the little back alleys.
If you see people going in one direction, go the other way! See how far you can get, and the magical little details you see when you're not surrounded by people. You'll discover charming piazzas, gorgeous little churches and cosy cafés on your way.
Don't be afraid to get lost, it's inevitable. After all, this is the charm of Venice.
What we loved: Castello is a stunning quiet area of Venice, rich in history with beautiful architecture that we particularly loved. San Polo is also a quieter area of Venice with some wonderful small canals to explore.
Don't miss : Stone Heart at Sotoportego dei Preti
A pilgrimage for many a romantic couple in Venice, finding the famous Stone Heart at Sotoportego dei Preti is a must. Originating from an old Venetian tale of the love between a fisherman and a mermaid, legend has it that if you and your loved one touch the stone together, you'll stay in love forever!
Venice, the Romantic City – Fall in love with Venice sunsets
There are no paintings or pictures giving justice to the amazing sunsets you can watch in Venice. You must see them in person, with your partner, holding each other's hand and dreaming about your future together. We recommend you a stroll along The Fondamenta delle Zattere. It is a long promenade along the canal in the less touristy area of Dorsoduro.
Along the Zattere you can enjoy a long walk, arm in arm, on the lagoon from San Basilio to Punta della Dogana and peaceful sunset views of the water. Consider beginning your walk among some of the romantic, quiet inner canals of Dorsoduro, where you will hear the gentle church bells ringing on the hour of vespers, and then take in the end of the sunset along the Zattere with a kiss as you say goodbye to the sun and begin your romantic night in Venice.
Venice, the Romantic City – Dinner on a terrace with a view
There are many places where you can dine on a terrace in Venice, and we will be more than happy to recommend where to go during your stay.
It might sound obvious, but can you imagine something more romantic than eating on a terrace, with your love, under the sky of Venice, with a view you won't have anywhere else in the whole world? Not to mention, there's nothing like enjoying a wonderful meal by candlelight!
Terrazza Danieli – a must do in Venice
The food at this restaurant inside Hotel Danieli is excellent, with a menu that showcases recipes dating back to 1909, including a Dandolo risotto with sea urchin, sole and fresh tomatoes. But that's really besides the point: come here for one of the best views in Venice, overlooking the Grand Canal, Punta della Dogana, Giudecca and San Giorgio Maggiore.
Watch Romantic Ballet Performance At Teatro La Fenice
Teatro La Fenice ("The Phoenix") is one of the most famous and renowned landmarks in the history of Italian theatre and in the history of opera as a whole. Especially in the 19th century, La Fenice became the site of many famous operatic premieres at which the works of the four major bel canto era composers – Rossini, Bellini, Donizetti, Verdi – were performed.
All you need is to step inside to be transported to the elite 14th-century royalty of Italy. Plan an evening watching a romantic ballet or live opera show with your loved one in this historic theatre and it will be the highlight of your trip! Make sure you book yourself one of those special seats in the golden balconies!
A romantic day trip: explore Burano or Verona!
Loved for its gelato-hued houses and winding canals, Burano makes a delightful Venetian day trip destination. Indeed, Burano is the land of colours. It could be something like Cuba of Europe when it comes to colours!
Accessible via ferryboat, this bright and breezy isle is bursting with authentic eateries serving up just-caught seafood (including the renowned lagoon fish) and stores stocked with the island's famous lace. Enjoy taking a leisurely stroll along the intimate lanes, take your time and enjoy the different colours around you.

The best time to do so is just before sunset. This is when colours seem to be even more vivid and canals views become even more romantic and intense.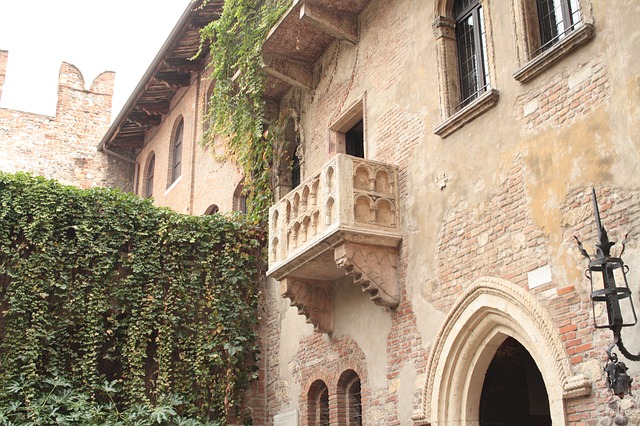 Verona
The beautiful medieval city would be worth a trip in itself with its gorgeous squares, perfect for whiling away the hours over a glass or two of local wine.
But for most couples, Verona is the site of the greatest romantic tragedy in literature – Romeo & Juliet. Verona is about 70 miles from Venice and lovers around the world are inspired by the story of Romeo and Juliet.
And as the narrative goes, Romeo declared his love when Juliet was standing her balcony. Hundreds of lovebirds come here to have a look at the balcony and leave a note on the walls of the house.
The walls are full of colourful letters (you can even write one yourself!), left by lovers from around the world.
Venice Romantic City Tip
Extend your romantic honeymoon… Add a round-trip cruise to your stay! Did you know that more than a dozen cruise lines offer ocean, lagoon, or Mediterranean cruises that start and end in Venice? You can lose yourself among the crowds on a large ship or enjoy the intimacy of a small ship.

Best time to visit Venice, the romantic city
A perfect place for honeymoons, Venice is most delightful to visit in spring or autumn, when the hordes of tourists desert the city, the hotel rates are lower, and the canals are empty, giving you and your spouse the privacy you desire with all the amenities of a tourist-based locale.
Venice Romantic Hotels – Where to Stay
Best luxury hotel: Belmond Hotel Cipriani 5*
A timeless place where elegance and charm are found in every detail
Set on Giudecca Island, Belmond Hotel Cipriani offers stunning views of Venice Lagoon and the Doge's Palace. Start your new life together in the most sublime environment. Take a twilight walk through Casanova's gardens or have a personal butler serve you champagne and canapés on your private terrace. Indulge in a couple's treatment at the Casanova Wellness Centre. Share a Michelin-starred feast at the iconic Oro Restaurant. For the adventurous, the concierge is on hand to suggest the best secret tours and tastings that Venice has to offer. Plus: You are 4 minutes from St. Mark's Square by the hotel's private boat service.
Rooms from € 830/night
Best mid-range hotel: Hotel Palazzo Stern 4*
The most romantic and luxurious honeymoon awaits you at this historical hotel
The Palazzo Stern is the perfect hotel for a honeymoon or a romantic weekend. An Historic Palace, refined and exclusive, offers to its guests an unique location, cosy, mysterious and elegant. Faced over the Grand Canal you will be stupefied by his furniture and decorations either in the princely rooms and it the halls! A Jacuzzi and rooftop terrace with spectacular views can be exclusively reserved, and breakfast can be enjoyed in the breakfast room or, during summer, on the spacious garden terrace with fantastic canal vistas which also offers a bar service in the evenings.
Rooms from €310/night
Best budget hotel: Locanda Fiorita
A romantic and charming getaway for two, with elegant suites, private balconies and a sunny terrace.
The Locanda Fiorita Hotel is a charming establishment situated right in the very heart of Venice's historic town centre. It overlooks a small picturesque Venetian square (campiello) which, because of its charm, attracts many artists and photographers. Although located in the centre of town, it is far enough away from the main tourist thoroughfares to provide a sense of what it is like to stay in a most genuine Venetian setting.
During the warmer months, breakfast is served al fresco, in the small square that is overlooked by the Locanda, a romantic and magical place.
Rooms from € 150/night