Road Trip: Noto and Marzamemi, Sicily
DH Lawrence once said that "anyone who has once known this land can never be quite free from the nostalgia for it…" and there is certainly something about Sicily that gets under your skin.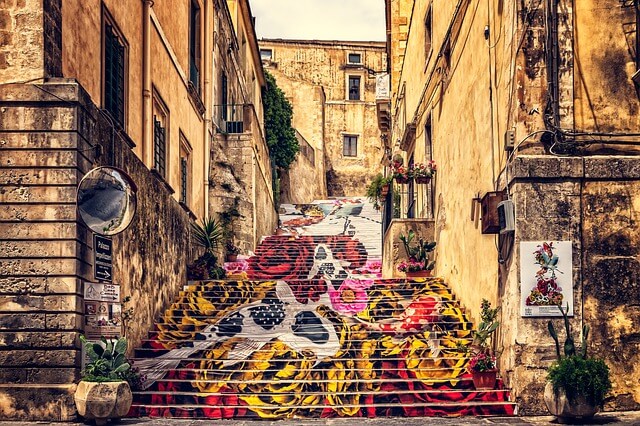 In Sicily you will discover traditional and rustic places with a rich culture and a heady mix of architecture, arts, cuisine, literature, music and history.
To help you escape the crowds and find your own slice of unspoilt Sicilian heaven, here are the best villages to visit in the South Sicily.
Noto is a city in the Province of Syracuse (Sicily), perched on a plateau overlooking the Asinaro valley, covered with citrus, olive and almond trees.
Noto is considered a baroque architectural paradise with one of the most beautiful historic centre in Sicily.
It's possible to visit the historic town centre in a half day. Everything in Noto is an architectural gem, whether it's a fountain, an arch, a church, a palace, or even a staircase or a balcony.
The principal tourist activity in Noto is simply a wander around the narrow streets, admiring the golden-coloured stone buildings, the fantastical facades and balconies.
The Corso Vittorio Emanuele is the main street and if you are in Noto for a quick visit, this is the street to explore! As you walk down the Corso Vittorio Emanuele, you will see quite a few churches, cute piazzas, fountains, intricate Baroque style facades of historical buildings.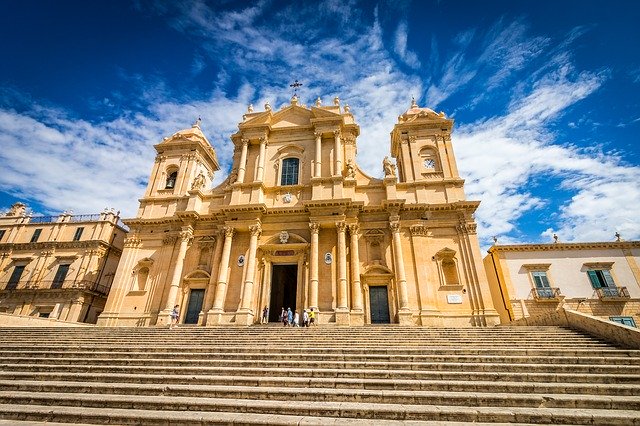 You will also want to visit the Duomo in the centre of the town as well as the Palazzo Nicolaci which has some of the most glamorous balconies and architecture in the city.
Also the Chiesa di San Carlo is a great site because it has a bell tower you can climb to enjoy a stunning panorama of the unique city.
In Noto you cannot miss to visit the public gardens filled with bougainvillea, flowers and palm trees.. this is the perfect place for a relaxing stroll under the sun!
For a food stop, try some Noto specialities:
Pane cunzato (sandwiches piled high with tomatoes, anchovies, capers and olives)
Delicious granita (crushed ice flavoured with fresh fruit ).
Arancini : Rice balls stuffed with meat or cheese, coated with breadcrumbs and fried
Don't miss:
Noto flower festival called "Infiorata di Noto". It is a festival that attracts thousands of tourists from all over the world. The main street of this event is Via Nicolaci, which is decorated by flower petals to create real mosaics. It takes place on the third Sunday of May.
After a half day in Noto you can enjoy the breeze of the sea in Marzamemi,Sicily, a little gem of Italy.
To 5 km of distance from the Baroque Noto, Marzamemi (Sicily) is a calm village of fishermen timeless with clear and blue sea, uncontaminated beaches and fascinating and silent tonnara.
Marzamemi was founded by Arabs in the 10th century. Arabs built the tonnara that, although is no longer in function, left to the city a deep-rooted fishing tradition.
Tasting some of the huge variety of fishing products on which Marzamemi's economy is based, is considered a must when you visit the town.
The village extends around the harbour, with its pretty, coloured fleet made by wooden little boats; the centre is characterized by narrow streets and little stone houses with roof tiles, while a large, picturesque square is the centre of the town.
Around the central plaza, the cottages of the fishermen are turned into characteristic houses of vacations and typical restaurants.
You will be enchanted by the clear stone, from the typical and relaxed atmospheres of Marzamemi (Sicily).
Don't miss:
A fish dinner under the stars and a walk to the small shops of local craftsmanship.
In July it often hosts an International Film Festival during which films are projected directly on the walls of the buildings surrounding the piazza.
A curiosity: Marzamemi was the filming location of Gabriele Salvatores's 1993 movie "South", and the Academy Award-winning director called it "A place for the soul. The deepest part of Southern Italy, Magna Grecia."
How to get to Noto and Marzamemi, Sicily
By airplane: Catania Airport is 93 km away (1 h 20 min drive), Comiso Airport 70 km (1 h 15 min drive)
By car: hire a car at the airport
Marzamemi Hotels – Where to Stay
Best luxury hotel: Scilla Maris Charming Suites 4*
A relaxing stay for couples
This is the type of place you don't want to leave…with its relaxing environment and pool area, incredibly clean room and surrounds, stunning decor and service that went the extra mile. Very good breakfast and excellent restaurant.
Rooms from € 180/night
Best mid-range hotel: Hotel Villa Giulia 4*
Best for a boutique stay
An enchanting place very cared for in detail, surrounded by greenery and silence but strategic for visiting the surroundings. Hospitality is the winning element of the structure as well as cleanliness and tidiness.
Rooms from € 140/night
Best budget hotel: B&B Estremo Sud
Excellent base for trips
Nice holiday complex with a beautiful garden, a couple of minutes drive from Marzamemi fishing village. Comfortable air-conditioned cabins finished to a high standard. A bicycle rental service is available at the accommodation, while cycling can be enjoyed nearby.Noto is 23 km from B&B Estremo Sud, while Modica is 40 km away.
Rooms from € 55/night