Amalfi Coast Beaches: All You Need to Know
Are you looking for the best beaches on the Amalfi Coast? Here you can read about 6 beautiful Amalfi Coast beaches you can't miss when planning a trip to Italy. The Amalfi Coast is a popular summertime destination for vacationers who want to soak up the sun and live the chic ambiance of this storied stretch of coastline.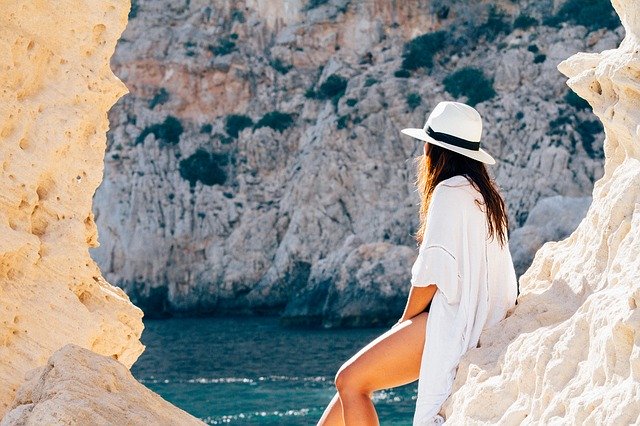 Brightly coloured homes and terraced gardens are scattered along the Amalfi Coast and you will definitely want to pack your camera to capture all of this breathtaking beauty.
Although the Amalfi Coast is a favourite seaside holiday destination, don't expect to spend your time walking on long stretches of soft sand: on the Amalfi Coast, what is called a beach is often little more than a patch of pebbles or a rocky platform lying beneath the cliffs.
The majority of the area's towns are situated high above sea level and to reach the water's edge, you will often have to make your way down long flights of steps or impervious coastal paths.
The reward for your efforts are some of the world's most enchanting bays, lapped by wonderfully warm, crystal clear waters.
If you decide to rent a boat, will be able to reach otherwise inaccessible coves of the Amalfi Coast, and enjoy a little corner of paradise all to yourself, for hours.
Discover the best Amalfi Coast beaches
Positano beach
Ideal picture postcard material, Positano's main beach (Spiaggia Grande) is one of the liveliest and most cosmopolitan of all those on the Amalfi Coast. It stretches 300 meters and has a rentable sunbed section as well as a free section. Its colourful umbrellas are a beach staple and make it ultra-recognizable from above.
It is among the most desirable beaches from the jet set for its worldliness. This beach is the perfect place to spend a few hours in the sun and enjoy a cool drink.
Amalfi beach
The most famous of the beaches of Amalfi is undoubtedly that of Marina Grande. As the name suggests, the beach has considerable dimensions, although it is possible to note its extension in length and not in width. The beach is composed of a very fine and soft fine sand, mixed with gravel and small pebbles.
This last characteristic gives the sea that bathes the coast a shining blue colour. Not surprisingly, this charming seaside resort attracts tourists from all over the world. On the beach of Marina Grande there are several bathing establishments.
These establishments provide numerous services such as public showers and well-kept bathrooms. Furthermore, bathing facilities are also available for hire, such as pedal boats or canoes.
Cavallo Morto beach
This smaller 'wild' beach known as Spiaggia Cavallo Morto (or Beach of the Dead Horse), is located between Erchie and Maiori and is only reachable by boat or kayak.
While that may not seem quite so relaxing, the trip pays off when you see the sandy shores of Cavallo Morto tucked below a cliff like a beautiful blue secret. The beach has crystal clear blue waters and is perfect for swimming and sunbathing.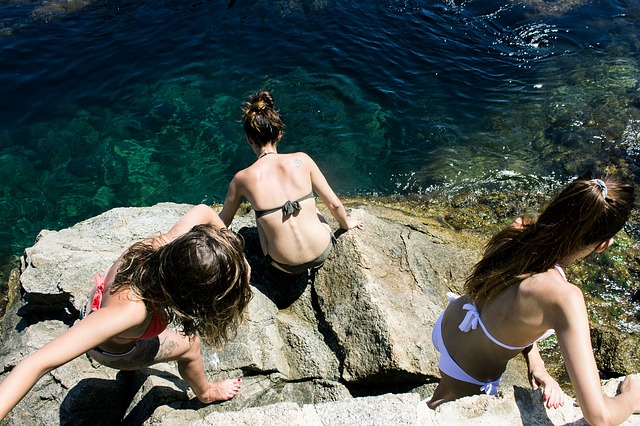 Castiglione di Ravello beach
Ravello is one of the most charming towns on the Amalfi Coast, and its lovely beach is one of the most popular travel destinations known for its intimacy, majestic sun-kissed shoreline and gorgeous villas.
Rocks and cliffs surround it, though, so it does get shady towards the afternoon, but its location also provides beachgoers with more privacy. Despite its popularity, this beach doesn't get as crowded as some of the others.
Fiordo di Furore beach
This is the beach that has been in all the movies. The iconic archway overhead gives the beach its name. When you are down here, gazing at the crystalline waters of the Amalfi, it is easy to appreciate why this beach is so telegenic.
Everyone from Roberto Rosellini to Sophia Loren has bathed here and you should too. Come here for the views and stay here for a picnic. Note that you must walk down a long series of stairs to access the beach. Because this beach is tucked away in a craggy outcropping, direct sunlight generally lasts until only 5PM. Not to worry, you can head back to Locanda del Fiordo Restaurant for a memorable aperitivo.
Gavitella Beach
This beautiful beach is one of the few on the Amalfi Coast facing west, which means it remains bathed in sunlight longer than most of the other beaches in the region. It's the perfect choice for winding down in front of a truly gorgeous sunset, after a long day of sightseeing.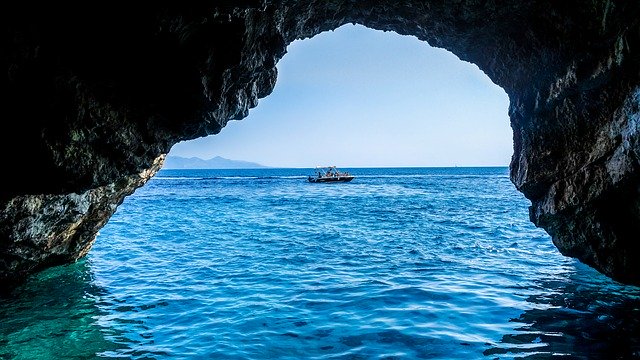 It's a bit of a walk down to the beach, though – about 400 steep steps, making it an unsuitable choice for visitors who can't make the descent. Even so, the beach is also accessible by elevator from nearby resorts. If you get there early, there are usually sunbeds and umbrellas available.
What makes this beach unique and a popular choice among the younger tourists is the lively atmosphere. The guests of Gavitella enjoy live music and regular fun watermelon slicing (using sabres) on the shore.
Amalfi Coast beaches travel tips:
Book an excursion by boat: Positano is like a postcard from another era, the effect is even more evident for those who see it for the first time from the sea.
The beaches of the Amalfi Coast get very busy in high season: so don't expect to find empty beaches or secluded spots unless you hire a skipper to take you to a beach that is only accessible from the water. Hotels that have beaches restricted for hotel guests' use are a great bet if you prefer fewer crowds.
Book your sunbed in advance: don't wait until the last minute to make a sunbed reservation, or you might not find one.
Get up early. The sun leaves almost all of the Amalfi Coast's beaches in the early afternoon, and for maximum hours of sunshine, you'll need to have breakfast on the beach!
Don't miss to visit Ravello: Ravello boasts elegant villas, gardens and intoxicating panoramic views. Villa Rufolo and Villa Cimbrone are Ravello's two main viewpoints. Many artists, musicians, and authors, including Richard Wagner, M.C. Escher, Truman Capote and Tennessee Williams visited Ravello regularly, drawing inspiration from its lush scenery.
Best time to visit Sorrento and Amalfi Coast
The best time to see the Amalfi Coast is from May to July, when the weather is just warm enough, and the temperature of the Mediterranean allows for the first dips of the season.
If you love local festivals and nightlife, remember that most events take place on the coast during the months of July and August.The calendar of concerts and festivals is particularly full during these two months, which is also when most of the international jet-set anchor their yachts off the Amalfi Coast and can be seen in the most glamorous restaurants and clubs onshore, including "Music On the Rocks" in Positano and "Africana" in Praiano.
Even during these crowded months, you can enjoy the coast in peace and solitude by hiring a private boat to explore the hidden coves and beaches along the Amalfi Coast or by hiking the trails along the mountain slopes above the coast, far from the tourist crush.
The month of September is also an excellent time to visit the Amalfi Coast, while the temperatures are still mild and the lion's share of tourists have left.
Amalfi Coast Hotels – Where to Stay
A Romantic Stay for Couples
Once home to Capuchin monks and a unique inspiration for travelers from around the world, the NH Collection Grand Hotel Convento di Amalfi is one of the most distinctive landmarks on the Amalfi coast. With a rich history dating back to the 13th century, and a five-star luxury rating, it enjoys a dramatic location on a cliff-edge overlooking the famous coastline. All rooms have sea views, terracotta floors and marble bathrooms. A flat-screen TV, minibar and pillow menu come as standard. Amalfi centre is a 5-minute walk away downhill. The picturesque town of Positano is 40 minutes' drive away.
Excellent location and super breakfast
Hotel Amalfi has a great location in the centre of Amalfi, just a few metres from Saint Andrew's Cathedral. It features a peaceful garden with citrus fruit trees.Guest rooms come with satellite TV and air conditioning. Some have a private balcony. Breakfast is served on the terrace on the 5th floor.
Perfect for a beach holiday
Located in the popular seaside resort of Maiori on the Amalfi Coast, Residence Due Torri offers bright and spacious apartments with a fully equipped kitchenette and a balcony. Guests have discounts at the private beach of a partner hotel only 20 m away, where they can also enjoy lunch and dinner at the restaurant. During summer, a shuttle service is available to the port, from which you can catch ferries to Capri and Positano.
fusion_button link="https://www.anrdoezrs.net/click-100692844-11552042?url=https%3A%2F%2Fwww.tripadvisor.com%2FHotel_Review-g194806-d1998882-Reviews-Residence_Due_Torri-Maiori_Amalfi_Coast_Province_of_Salerno_Campania.html" text_transform="uppercase" title="" target="_blank" link_attributes="" alignment="center" modal="" hide_on_mobile="small-visibility,medium-visibility,large-visibility" class="" id="" color="custom" button_gradient_top_color="#01a0a3″ button_gradient_bottom_color="" button_gradient_top_color_hover="#01a0a3″ button_gradient_bottom_color_hover="" accent_color="" accent_hover_color="" type="3d" bevel_color="" border_width="" border_radius="" border_color="" border_hover_color="" size="large" stretch="default" icon="" icon_position="left" icon_divider="no" animation_type="" animation_direction="left" animation_speed="0.3″ animation_offset=""]BOOK HERE[/fusion_button]