Family Holidays and Amusement Parks in Italy
Holidays are a special moment for you and sharing it with your family makes you happy. What suits you, are the golden beaches of Emilia- Romagna: pure waters and a shallow sea bottom, safe play areas, amusement parks in Italy, animation and excellent restaurants on the shore during the pleasant summer evenings.
Here a list of the best family beaches in Emilia-Romagna
Bellaria Igea Marina beach
The beach of Bellaria Igea Marina is located near Rimini and is one of the most popular on the Adriatic coast. The beach is broad and long, characterized by light-coloured fine sand. Bellaria Igea Marina has won several times both the Green Flag by the Italian Paediatricians Association, which awards child-friendly beaches, and the FEE Blue Flag for water and beach cleaning.
Children have always been the protagonists in Bellaria Igea Marina. In Bellaria Igea Marina you will find family hotels, beaches for the whole family which are safe and equipped to the smallest details, family shops where shopping is fun, restaurants, ice-cream parlours and other places you can call "home".
Moreover, many locations and events will make your holiday an unforgettable adventure: the Parco del Gelso (Mulberry's Park), with its lake and La Valle dei Dinosauri (the Dinosaur's Valley); the Torre Saracena (The Saracen Tower) and its Museo delle Conchiglie (Museum of the Shells); the green train passing through the town, carousels, puppets, jugglers, workshops and entertainment activities. Finally, Lillo, our family mascot.
Don't miss: Children Summer Events will transform the city, in a real pleasure island. A few examples: the Children Festival in June; the Pink Night of the Children in July or the Tribe of the Sun festival.
Misano Adriatico beach
Misano Adriatico is located between the famous Riccione and Cattolica; it is easily accessible and is one of the most popular seaside resorts in our country. The beaches of Misano Adriatico have a wide and three kilometre long beach, composed of amber-coloured sand and shallow and sloping seabeds.
All qualities that have enabled the town of the Romagna Riviera to be awarded both with the Blue Flag by FEE Italy and with the Green Flag by the Italian Paediatricians Association for child-friendly beaches.
Most of the beaches are managed by the beach establishments which offer, in addition to the equipment rental service such as deckchairs, umbrellas and sun beds, also entertainment and entertainment for tourists of all ages and backgrounds.
The beaches are equipped for children with safe play areas, baby changing units, changing rooms with baby changing table, hot showers and heated sea-facing swimming pools. If you have children, Misano Adriatico has no adversaries, it's òaso full of family events that satisfy every kind of desire.
Among the family events let's remember the Kid's Festival with a program rich of entertainment, workshops, face-painting, baby dance and karaoke; Acchiappasogni – Dreamcatcher, a weekly event with puppeteers, magic shows, Teather and entertainment; the setting of the "Fairytales under the stars" is in different green areas of Misano Adriatico, where an actor entertains children with his magic stories, and last but not least the Open Air Cinema, a cinematographic show for children.
Riviera Romagnola Parks: family fun!
Emilia Romagna is full of opportunities to have fun during a holiday with the whole family, including the parks of the Riviera Romagnola, ideal for children and for any kind of day: amusement parks (Italy), water parks, theme parks. Here a list of some amusement parks in Italy for a perfect family day!
Beach Village- Riccione
A beautiful water park on the beach of Riccione, on the border with Rimini, with 3 swimming pools, water slides, entertainment, water games and relaxation areas.
Aquafan – Riccione
Europe's most famous water park! Fun for the whole family with over 3 km of water slides for all tastes, the famous wave pool where the main Radio Deejay events are held, as well as children's areas with water games and entertainment for the little ones.
Overseas- Riccione
It is a naturalistic theme park in Riccione, exciting and interesting for the whole family. It develops in a large green park and is divided into spaces dedicated to the sea, the earth and the sky, in a fascinating path to discover the history of our planet. Do not miss the fantastic dolphin show!
Fiabilandia – Rivazzurra
Fiabilandia is an oasis with fantasy and fun, close to the sea between Rimini and Riccione. This theme park is dedicated to fairy tale magic where tales and spells come to life, in the company of the characters that live in the imaginations of little children.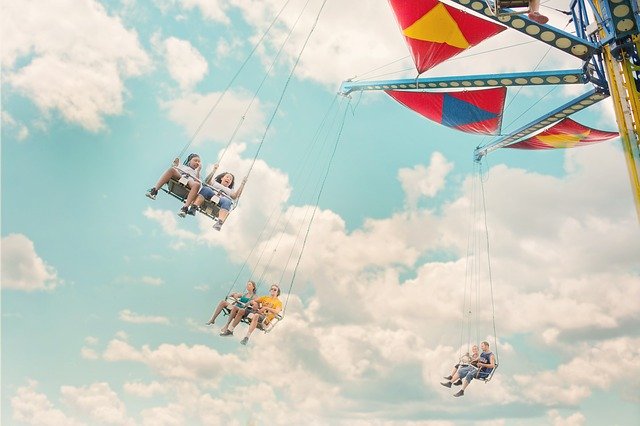 Cattolica Aquarium
An exciting tour of the world beneath the surface of the world's seas! This beautiful aquarium is located in Cattolica and offers over 100 tanks where you can admire sharks, penguins, turtles and many other species of the underwater world.
Mirabilandia – Savio
Mirabilandia is the largest amusement park in Italy, which offers attractions for the whole family, with games for the most daring, games for children and plenty of shows and attractions for everyone's fun!
Best time to visit Emilia -Romagna
Peak beach season in Emilia-Romagna begins from mid-June and ends in early September. In August, life does not stop here, even for a minute; the buses run 24 hours a day. The craziest week is the one that falls on 15th, becomes the official week of vacation for almost all Italians and the hotel rooms need to be booked in advance, otherwise they won't be available.
Every year during the first weekends of July, Pink night festival is celebrated along the entire Adriatic coast. These two nights are full of frenetic entertainment, young people from all the surrounding regions of Italy gather here. If you are young – you will be thrilled with this event!
Emilia-Romagna Hotels – Where to Stay
Best luxury hotel: Hotel Atlantic 4*, Riccione
Perfect for a family holiday – beach section dedicated to kids
A 4-star superior hotel set on Riccione's seafront, the Atlantic Hotel is next to a reserved beach and has a Mediterranean style. It features a free indoor, heated sea-water pool and a wellness centre available at an extra charge. The Atlantic Hotel's Miniclub and beach area welcomes younger children by providing expert entertainers so everyone can play, have fun and learn. Parents can relax by the pool or indulge in delicious Italian cuisine by sampling dishes from out Green Restaurant a la carte menu.
Rooms from € 275/night
Best mid-range hotel: Blu Suite Hotel 4*, Bellaria
Perfect for a family holiday – Free mini club
With its 350 m² wellness centre, a heated outdoor pool, charming gardens, and well-equipped private beach, Blu Suite Hotel is ideal for a relaxing holiday on Bellaria Igea Marina. Kids have their own pool area and an outdoor playground, as well as indoor playrooms, a beach playground and a free mini club. A restaurant for kids with special menus is also available. Entertainment activities are organised from June to September. Bikes can be rented on site.
Rooms from € 70/night
Best budget hotel: Hotel Thea 3*, Bellaria
Perfect for a family holiday
Hotel Thea features an outdoor pool and a wellness centre including a sauna, Turkish Bath, sensory shower and hot tub. Located in the centre of Bellaria-Igea Marina, it offers free Wi-Fi throughout. The nearby sports centre, Gelso Sport, gives hotel guests free access to its facilities which include a tennis court and an indoor swimming pool. Rimini is 12 km from the property, while Italia in Miniatura is 10 minutes by car.
Rooms from € 50/night