Milan Tour: What to Do for an Unforgettable Day
Where else can you see the latest frontiers of design and architecture and, at the same time, admire Leonardo da Vinci's restored Last Supper? Only in Milan. Are you ready to take an unforgettable journey through an engaging Milan tour?
Milan is a mix of modern and traditional, packed with art, fashion, history and mouthwatering food. Milan is one of Italy's most fashionable cities, home to some of the country's major fashion brands.
One of the best spots in the city centre to find them in one spot is the world's oldest shopping mall: the Galleria Vittorio Emanuele II. But Milan's not all about fashion, though. Milan is also known for its cultural offerings. The Duomo and Leonardo da Vinci's "The Last Supper" are undisputed must-visits for every tourist.
The historic city centre can easily be explored on foot, but if you need to save time, there is an excellent transport system consisting of the subway, buses and trams in place.
If you're visiting Italy's fashion capital on a limited time availability, here a list of THE BEST THINGS TO DO IN MILAN in one day!
Visit the impressive Cathedral of Milan (Duomo)
The Cathedral is the symbol of the city and it's literally at the centre of Milan. This magnificent Gothic cathedral, is one of the world's largest churches. There are more statues on this building than any other in the world, 3159 in total.
The most famous of all these is the "Madonnina" (Little Madonna), a copper statue of the virgin Mary covered with 3900 pieces of gold leaf. (Ticket: €3.50 per person. Entry to the cathedral is only allowed in appropriate clothing. )
During your Milan tour, don't miss the view on the roof terraces:
You can pay a small fee to take a fascinating trip to the Duomo's roof via steps or elevator. It's amazing to walk among the forest of spires and the view from the roof is invaluable. On a clear day, you can see as far as the Alps and Apennines. (Ticket: €13.50 per person)
Admire the Galleria Vittorio Emanuele II
The Galleria Vittorio Emanuele II, the so-called living room of Milan, created in 1877, it stands as one of the oldest shopping malls in the world and was designed by Guiseppe Mengoni.
As you walk into the gallery, you might think you were stood inside the entrance hall to an opera house or palace – not a shopping mall. Today, it houses some of the most luxurious boutiques in Milan such as Prada, Louis Vuitton and Gucci. The Galleria is located between two of the main monuments in Milan: il Duomo and the Teatro alla Scala.
A curiosity: Under the central dome there is a mosaic with the Savoy coat of arms and various animals that represent some of Italy's most important cities. According to a legend, visitors and locals will have good luck if they step with their right foot on the bull and turn 360° with their eyes closed. If you step on the bull on the 31 December at midnight, you will be lucky for a whole year.
Tour the "Teatro alla Scala"
La Scala (300 Mt from Milan Cathedral), or Teatro alla Scala, is one of the most famous opera houses in the world.
Its sober and elegant exterior never fails to surprise those that visit it for the first time.
Many famous operas have had their first production at La Scala, such as Othello, Nabucco by Verdi or Madame Butterfly by Giacomo Puccini.
La Scala is also known for its excellent acoustics, and for being a cultural centre of Milan's high society.
Architecturally it became a model of 'Italian Theatre' that many other Opera Houses have imitated, with a horseshoe layout and multiple levels of boxes, a rich red interior and an ivory parapet with gold decorations.
His museum contains a large collection of paintings, busts, costumes and several other objects related to the world of opera and theatre.
We recommend guided tours , but you could also consider purchasing tickets to see a show – An exciting and memorable evening is promised!
One of the most famous paintings in the world:"The Last Supper "
During your Milan tour, come and see this fantastic work of art and marvel at the detail and significance of this iconic depiction. The Last Supper by Leonardo da Vinci is a shining example of the artist's genius. Originally titled Ultima Cena, it is considered as his masterpiece.
The original mural was painted between 1495 and 1497. You can currently see the authentic picture which da Vinci painted in the dining room of the Convent of Santa Maria delle Grazie.
The Last Supper is an enormous painting that measures 640 cm x 880 cm. Leonardo da Vinci used tempera and oil on a base of plaster, instead of using the most frequent technique of the time: fresco.
You need to book in advance. The visits are organized in small groups, which rotate every 15 minutes, making it a very enjoyable visit. Note that you are not allowed to take photos. Leonardo's Last Supper is outside the Church on the right on the Square. It does not belong to the church, but it is a National Museum.

Open from Tuesday to Friday: 8:15 am until 7 pm
Tickets: €10 per person (+ € 2 to book in advance)
Get lost at Sforza Castle and Parco Sempione
The Castle (900 Mt from The Last supper) is one of the most representative and popular monuments that you can admire during your Milan tour.This 15th century castle has a central location in Milan and is set in extensive grounds and gardens.
It has undergone over the centuries various and complex transformations; it has been defended fortress, military barracks, private residence and centre of cultural institutions and museums.
The castle houses the Museums of the Castello with rarities such as the last masterpiece of Michelangelo, the unfinished Pietà Rondanini and the frescoes by Leonardo da Vinci and Bramante.

Free entry to the castle. Museum: Adults: €10 – Friday from 2 pm until 5:30 pm: free entry.
Parco Sempione – a place to relax after your Milan tour: is a large green-space close to the Castello Sforzesco. It was built between 1890 and 1893 imitating a typical English garden. The park has an overall area of over 47 hectares.This wonderful place is beautifully landscaped and contains a myriad of footpaths, bike trails and wooded areas together with many sculptures and ornate fountains.
It's a place of peace and relaxation (very rare in the centre of Milan!) and it hosts football and rugby matches, and the last stage of the annual marathon.
You can also find a museum in the park and the Torre Branca, which is a huge watch tower that offers panoramic views of the city.
Don't miss the aperitivo along "The Navigli"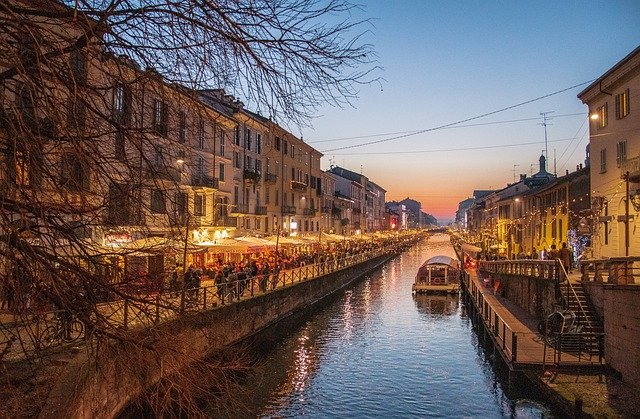 Navigli are the charming canals of Milano where you can find small shops alongside excellent restaurants serving authentic Milanese cuisine, but also many art studios and little galleries hidden down side streets.
The Navigli are a system of canals and waterways whose construction lasted 7 centuries.In just 35 years had been built 90 km of waterways and the first canal was realised in the XII century, when began the construction of the Naviglio Grande with a system of dams invented by Leonardo Da Vinci in the XV century.
One of the best moments to have an "aperitivo" at Navigli is at the sunset when you can find a very romantic atmosphere with the sun reflecting in the water of the canals. Usually served between the hours of 6 pm and 8 pm, most bars will set out a heavy buffet or serve individual small plates with every cocktail.
Traditionally, aperitivi drinks tended to use a base of bitter alcohol (think of the classic Campari Spritz), but these days there are no rules about what to order as your end-of-day beverage. We suggest you, "the Ringhiera" bar in Ripa di Porta Ticinese, 5 where you can make a great aperitivo thanks to a rich buffet and good cocktails or "Spazio Movida" in Via Ascanio Sforza, 41.
Enjoy shopping!
Milan is the Italy's fashion capital where every shopaholic would love to visit, so it's the perfect place to freshen up your wardrobe. If you're planning an Italian holiday, you absolutely can't leave shopping in Milan off the list.
First on the list is the Fashion Quadrilateral, considered the most exclusive and luxurious shopping district, not just in Italy but the world. This part of the city is packed with high-end boutiques and brands like Prada, Gucci, Moschino, Versace and Bulgari and the most renowned high-end streets are Via Montenapoleone and Via della Spiga.
Don't miss to visit " La Rinascente" an eight-storey department store located just next to the Duomo. This must visit store has a contemporary interior and an amazing selection of designer brands.
Go on the 7th floor "Food Hall", and admire the stunning view of the city! If that's not enough, there are many outlets in the suburbs of Milan as well as in the city.
The most popular one is probably the McArthurGlen Serravalle, the largest Designer Outlet in Europe, located just 50 minutes away from Milan's city centre.
Milan travel tips: Things to know before you go!
The b

est t

hing to do is to buy your tickets

o

nline or booking a guided tour of the cathedral. It's the best way to save a lot of time for your Milan tour!

The

Museum of Science and Technology is ideal for a family visit

. The museum exhibits more than thirty models reconstructing the bold inventions of Leonardo Da Vinci, ranging from war machines to measuring instruments However, it's very big, so you will need to plan about half a day to visit it.

Did you know you can also go to the

beach in Milan

? Well, not quite – but you can

go to Idroscalo

, an

artificial lake

not far from Linate airport. In summer, you can rent pedal boats, lie in the sun, swim, go kayaking or even wake boarding.

All of Milan's civic museums offer free admission on the first Sunday of each month.
Navigli Canals

: The best is to go there at the end of the day, with the light of the setting sun. It's

a very romantic neighbourhood, especially in the evening

with the lights reflecting in the canals and the local life starting in the numerous bars and restaurants

If you want to make the most of your Milan tour

, you need to book a hotel in Milan that is close to the attractions and public transportation.

The best areas to stay in Milan

are located within Zone 1, where you can walk to Milan top attractions or take a quick metro or tram ride to get around.

If you want to get away from the city

:

Lake Como, Lake Maggiore and Lake Garda are a good idea for

a day trip

.

If you have planned to visit Milan in 2 days, we highly recommend you to

take the Milan

pass. It can be used as a

skip the line ticket

for Milan's best attractions like the Duomo and L

ac Scala opera. With the pass, you also get free

unlimited access to public transport as well as many rebates for 48h.
Best time to visit Milan:
While the city is worth visiting all year, the absolute best time to visit Milan are April to June or September to October. These spring and fall months straddle the city's manic peak tourism season, and they also escape the summer sweltering temperatures.
Milan Hotels – Where to Stay
Best luxury hotel: Chateau Monfort- Relais&Chateaux 5*
Best for historic charm
This 5-star boutique hotel is located in Milan's historic centre, an 8-minute walk from Piazza San Babila and the fashion area of Via Montenapoleone. Château Monfort is set in a historic building. The rooms are themed after different fairy tales and nursery rhymes. The mix of antique details and modern facilities makes for a unique, glamorous chic style.
Rooms from € 260/night
Best mid-range hotel: The Unique
Best for a boutique stay
The Unique is situated in Milan's Brera district, 500 m from Sforzesco Castle and within a 10-minute walk of La Scala Theatre, Galleria Vittorio Emanuele and Milan Cathedral. It's a small apart hotel with just 4 suite which are all unique. The suites are all new and decorated with refined taste!
Rooms from € 220/night
Best budget hotel: Boutique Centrale Sant'Andrea
Best for a stylish stay
Beautiful location in the fashion district and very close to Via Montenapoleone and Duomo. New and very chic room and bathroom in the furniture. Ideally situated in the centre of Milan, Boutique Centrale Sant'Andrea features air-conditioned rooms with free WiFi, private parking and room service.
Rooms from € 110/night